More than 20 years ago, a group of visionaries gave generously to launch Concordia International School Shanghai. These founders envisioned a top academic school, founded on faith-based values, where leaders would care for each student & educate the whole child.
20多年前,一批热心教育的人士慷慨解囊创建了上海协和国际外籍人员子女学校。这些创始人希望在一个温暖有爱的氛围里建立一所顶级学术水平的学校,在这里,管理层和老师们会热忱地关爱每一名学生的学习和成长。
In 2018, Concordia launched the Concordia Fund to continue the legacy of giving. Today's fund supports meaningful outreach & innovative enrichment programs that benefit all Concordia students.
2018年,我们成立了Concordia教育发展基金来传承这份捐赠的精神。目前所有的基金款项将用于丰富学生们的学习体验和拓展以学生为主的慈善服务项目。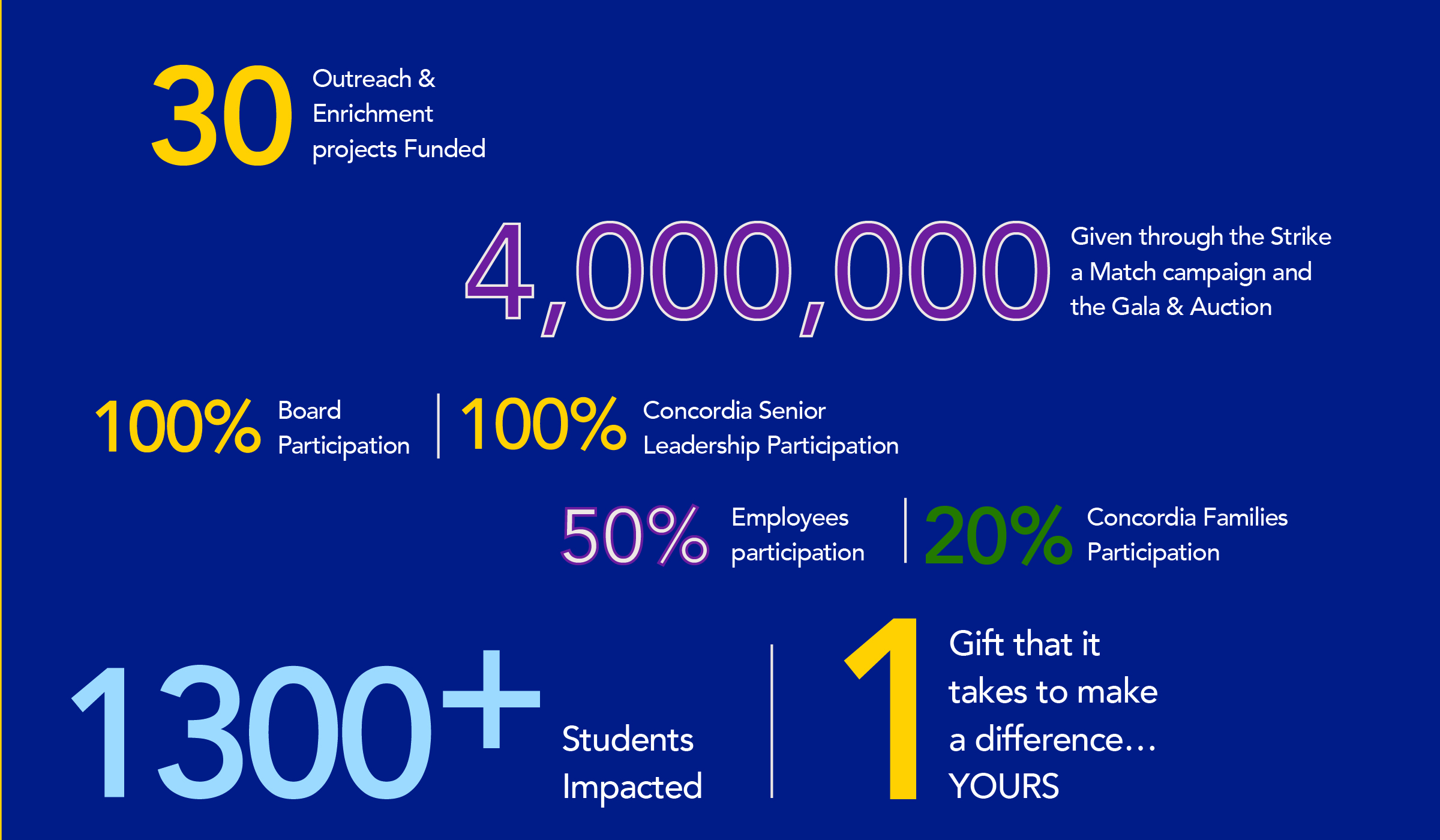 "'Concordia' is a Latin word for harmony, shared Dr. Drew Gerdes, Early Childhood Principal. "Being in harmony within our community means participating and contributing. My wife, Valerie, and I know that by contributing to the Concordia Fund, we are doing something amazing, in partnership with others!"
"Concordia在拉丁语里是和谐的意思。在社区中保持和谐意味着参与和奉献,我和我的妻子Valerie深深的知道,通过对Concordia教育发展基金的捐款,是在与他人一起做一些了不起的事情!" 学前部校长-Dr. Drew Gerdes
" 滴水汇成小河,小河汇成大江,大江汇成大海,积少成多的爱心会换来孩子们阳光般的笑容。我很庆幸,我为孩子选择了一所有爱的学校,在得到的同时也希望用我的行动来让孩子懂得感恩和回报的意义。支持Concordia,为学校基金贡献一份爱心! " 家长-韩娇
"The dripping water merges into a small river, the small river merges into the river, and the big river merges into the sea. Together we create a lot of love to benefit our children. I am very fortunate to choose a school full of love for my children. I also hope that my actions will help my children to understand the meaning of gratitude and in turn show thankfulness through their own actions and contribute," Emma Han, Concordia Parent
"Together we can do great things." Mother Theresa
"我们可以一起做伟大的事情。"特蕾莎修女
Twenty new enrichment & outreach initiatives were supported by the Concordia Fund in 2018-2019. Here is a sample. For more details on these and all projects, visit ConcordiaShanghai.org/gives
在2018-2019学年,我们的教育发展基金已经成功支持了20个通过投入课程和设施来丰富学生们的学习体验或拓展以学生为主的慈善服务项目。项目介绍可以通过网站了解更多详细情况。ConcordiaShanghai.org/gives
Elementary Outdoor STEM Classroom-小学部室外STEM教室

AQI Sensor Project for whole school-全校范围内AQI空气质量监测仪开发制作

Jordan Hattar, guest speaker for High School Storytelling Agency class-嘉宾Jordan Hattar为高中部学生做关于数据解读方面的交流分享

Shining Star Book Project by Middle students-中学部学生为星爱共同成长项目编排教材

Outdoor Basketball Hoops for Middle School-初中部室外篮球架

Early Childhood Play Area-学前部游乐场

Two Service Trips to Guangdong for Left-Behind Children with Shining Star-2次前往广东进行关爱留守儿童的服务之旅

Library project with Reading Hope-Reading Hope图书馆项目援建项目

Outdoor Rooftop Classroom Deck for Elementary, Middle, and High School-小学、中学、高中部楼顶户外教室项目

Middle School Organic Farming Project-中学部有机农场项目
Please make a gift today to support New programs in 2019 – 2020.
请为2019-2020学年更多新学生项目作出支持和贡献!
Your Gift Makes a Difference

Encourage one another and build one another up, just as you are doing.
Learn More
Would you like to support:
您的捐赠将会被用作:
Enrichment, adding value to the programs and facilities that make up the Concordia experience.
通过投入课程和设施来丰富学生们的学习体验。
Outreach opportunities through student-centered service programs.
拓展以学生为主的慈善服务项目。